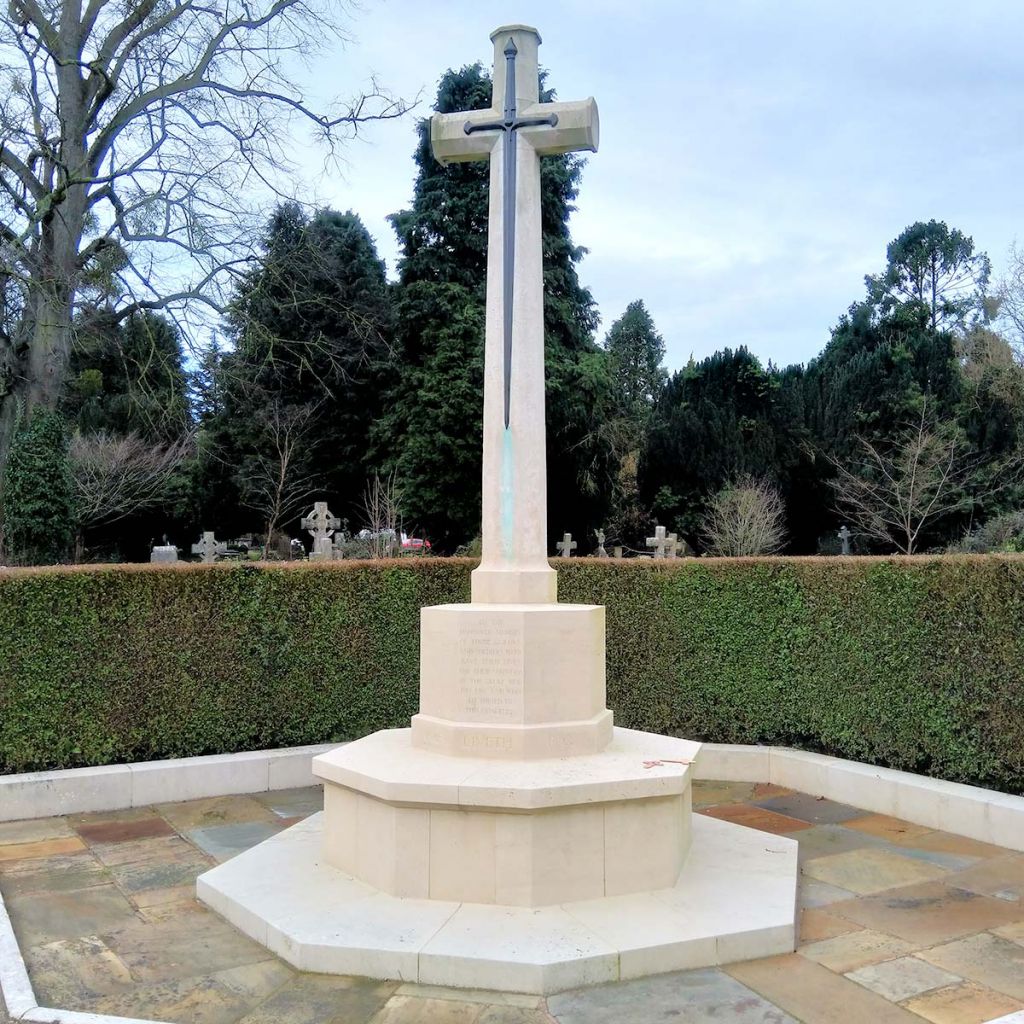 Worcester (Astwood) Cemetery contains 95 scattered burials from the First World War. There are also 46 Second World War burials, some of them forming a small plot, and 13 war graves of other nationalities. Alongside a new Commemorative War Memorial obelisk situated on the right just before the exit, introduced in 2018.
There are a further 33 Commonwealth War Graves at St Johns burial ground.
Visit the War Graves Commission's website.
With help from a local volunteer, we have been able to produce a list of the war graves with our cemeteries you can find the information in the table below which is in Alphabetical order.
Surname
Given Names
Military Number
Unit
Date of Death
Age
Service History
Campaign Medals and other information
Grave Number
Atkins
Reginald H.
P/SMX461
Royal Navy
16th November 1947
30
Artificer 3rd Class Atkins served with Royal Navy up until 16 Nov 1947 and died in service at Harwich Naval Barracks. Naval records indicate that an unspecified illness accounted for Reginald. He was returned to Worcester and buried on 23 Nov 1947.

13236
Ball
Thomas L.
T223517
Royal Army Service Corps
1st March 1943
22
Born in Worcester circa 1921; enlisted in to Royal Army Service Corps. Casualty List No. 1077 from 6 Apr 1943 indicates that Private Ball was victim of an accident whilst in service. Awarded 1939-1945 Star and 1939-1945 War Medal.

68
Bell
William A.
5046363
RAF
1st July 1957
Enlisted under the National Service Act. He was the pilot in English Electric Canberra WK129, stationed at R.A.F. Pershore, not far from Worcester. Along with his Navigator, Flight Lieutenant Kenneth Charles Frederick Shelley, he was taking part in tests in conjunction with a Ministry of Supply radar unit positioned on the summit of Drum, in North Wales. After the tests had been completed, Bell sent a message that Shelley and he were returning to base, but nothing further was heard from them. The wreckage was found on the Northern side of Carnedd Llewelyn, and it was assumed that the cause was engine failure, due to icing.

Band
Alfred V.
937201
RAF
26th April 1941
22
Sergeant (Pilot) Alfred Vernon Band, Royal Air Force Volunteer Reserve. Son of Albert Victor adn Beatrice Band (Nee Tibetts) of Worcester. A record from Air Ministry from 12 Jun 1941 indicates that Sgt Band died of wounds or injuries received whilst on active service at his station in Cumbria.

Non-CWG Headstone
11708
Banks
William
12318
Worcestershire Regiment
10th January 1916
Born in Worcerster circa 1893. Served with 4 Bn Worcestershire Regiment until his death. Died in Hospital in Southampton before being returned home for burial.

4128
Banks
Ronald T.
920863
Royal Artillery
11th September 1940
21
Born in Worcester circa 1919. Enlisted in to the Royal Artillery at the outbreak of WWII. Promoted to Lance Bombadier and posted to Royal Artillery 67 Field Regiment. Ronald Thomas Banks, occupation: soldier, resident 287 Bath Road, Worcester, died in the Isolation Hospital, The Slade, Headington, Oxford. Awarded 1939-1945 Star and 1939-1945 War Medal.

War Graves Garden
Barnham
Gordon H.
B1092335
Royal Artillery
8th September 1943
35
Born 1908 in Lichfield, Staffordshire. Enlisted in 1940; posted to Royal Artillery 62nd Anti-Tank Regiment. Married Ivy Maud Roberts in 1933, Worcester.

Baring-Gould
Benjamin G.
88441
RAF
7th February 1941
22
"Born 1918 in Weymouth, Dorset. Royal Air Force Volunteer Reserve.
He died aged 22, killed on active service.
His brother Trooper Jasper Julian Baring-Gould was also killed in service

Benjamin was the Pilot Officer of Tiger Moth T7160 of No2 Elementary Flying Training School. His aircraft hit high tension wires and crashed into Diglis Weir, Worcester. Benjamin was killed in the crash, however his pupil, Leading Aircraftman J Thompson survived the crash."

War Graves Garden
Barter
Henry James
M/10069
Royal Navy
30th October 1914
29
M/10069 Junior Reserve Attendant Henry James Barter, Royal Navy Auxiliary Sick Berth Reserve, H.M Hospital Ship "Rohilla". Son of Elias Charlton and Anne Barter, husband of Minnie. Appears in War Records for enlistment in 1914.

6958
Bevan
Frederick T.
3/9795
Northumberland Fusiliers
21st September 1920
43
3/9795 Private Frederick Thomas Bevan, Northumberland Fusiliers 3rd Battalion; transferred to (367978) Clearing Office Labour Corps to the end of his service following hospitalisation and transfer from France to the UK. Frederick died from sickness following being wounded in action in Flanders during the summer of 1915.

5537
Briggs
Thomas
1227721
RAF
31st December 1943
24
"Born Circa 1919 in Worcester. Enlisted for service with RAF Volunteer Reserve at Cardington in 1940. Died in an accident: Vickers Wellington Bomber X9666 of No21 Operational Training Unit took off from RAF Moreton-In-Marsh for bombing practice combined with a navigation exercise. Whilst over the Welsh mountains the crew flew into cloud and the aircraft began to ice over. Sighting water through a gap in the over-cast. The pilot, Flying Office Cyril Rowland Amos dived in order to try and establish their position, unfortunately he failed to realise that high ground, shrouded in mist, lay between the aircraft and the sea. Desending at high speed the aircraft sliced into Ffrith Caeneydd, above Aberdovery, Merioneth and burst into flames.

"

War Graves Garden
Brooks
Frank
253731
Worcestershire Regiment
12th August 1940
21
"Born Apr 1919 in Worcester. Enlisted in 1940, joining the Worcestershire Regiment and was present during the evacuation from Dunkirk. Reported to War Office Casualty Section in 1940 Report Number 291.
He died in hospital in Truro as a result of contracting polio, possibly as a consequence of standing in polluted sea water during the evacuation from Dunkirk. Because he died in England, this presented the opportunity for his body to be brought to Worcester for burial."

War Graves Garden
Brown
Albert E.
831116
Royal Field Artillery
20th August 1944
26
Born in Worcester circa 1894; enlisted in to Royal Field Artillery, 67th Division (Signalling). War Office Daily List No.5391 indicates that Driver Brown had been wounded in Summer 1917; an incident which ultimately led to discharged from Service in Jul 1919 due to sickness. Silver War Badge presented for honourable discharge due to medical reasons. Also awarded British War Medal and Victory Medal prior to his death in 1920.

31417
Burke
Joseph L.
3973811
The Lancashire Fusiliers
31st May 1944
21
Born in Manchester circa 1922. Indications from records that he was stationed in both North Africa and then Italy; the latter from where he was returned to the UK to recover from non-Battle sickness or injury. Records of burial state as follows: Joseph Leonard Burke, occupation: Soldier, resident 20 Paget Street, Collyhurst, Manchester, died in Ronkswood Hospital, Worcester.

War Graves garden 34959
Carmichael
George L.
95th Derbyshire Regiment
29th January 1903
69
Served with 95th Derbyshire Regiment and served in various locations within the then Empire; awarded Indian Mutiny Medal for action in 1858.

Chance
Andrew R.
J/89449
Royal Navy
5th July 1918
18
Born 11 May 1900 in Collingham, Nottinghamshire. Enlisted in 1918 in to the Royal Navy and sent to conduct training on HMS Powerful. HMS Powerful and her sister ship, HMS Terrible were the largest cruisers in the world during the 1890s. During the Boer war both ships were used to land naval brigades at the cape to take part in the relief of Ladysmith. She was used for harbour service in 1912 and then as a shore based training ship from 1915. Burial records state: Andrew Redvers Chance, occupation: sailor, resident Loves Grove Claines, died in the Naval Hospital, Plymouth after falling ill.

43
Clarke
John E.
2009320
Royal Engineers
7th April 1943
26
Born in Worcester circa 1918; enlisted in to Royal Engineers. Casualty List No. 1111 from 6 Apr 1943 indicates that Sapper Clarke had been serving with 266 Field Coy RE when he was victim of an accident. Awarded 1939-1945 Star and 1939-1945 War Medal.

31417
Collins
Sydney F.
918942
Royal Artillery
8th March 1947
52
Born circa 1915 in Worcester. Enlisted at outbreak of WWII, promoted to Bombardier with The Royal Artillery 265 Battery 67th Field Regiment. Was resident at 15 Wakeman Street, died in the Royal Infirmary, Worcester.

500
Cooper
Herbert R.
14584
Army Pay Corps
21st November 1918
22
Born in Worcester circa 1896; enlisted in to Army Pay Corps. Herbert Cooper attended Worcester Royal Grammar School from 1910 to 1912. He died in Warwick from Spanish Flu.

26511
Cotterill
William
21518
Gloucestershire Regiment
10th November 1918
21
Born in Worcester circa 1897; enlisted in to Gloucestershire Regiment, serving with 14th Battalion. Awarded both British War Medal and Victory Medal.

30
Cropper
Alfred F.
2421
Royal Field Artillery
22nd February 1916
26
Born in Worcester circa 1890; He married Jessie Day in 1913 and they had two daughters, Norah born in 1914 and Gladys E. born in 1915. Enlisted in to Royal Field Artillery, 2nd South Midland Brigade. Records indicate that he died whilst at a Military Hospital in Colchester. Appears in the Worcester/Worcestershire Roll of Honour Book for army casualties located in Worcester Cathedral. Awarded both British War Medal and Victory Medal; additionally family provided with War Memorial Plaque as Driver Cropper died during the war whilst in service.

10458
Darke
Albert T.
907704
RAF
7th October 1943
23
Born in 1920 at Madeley, Shropshire. Enlisted into the RAF Volunteer Reserve in late 1939 at Cardington and appointed as a Class F Reservist. He was buried in consecrated ground in Astwood Cemetery on 11th October 1943, aged 23 years.

War Graves Garden 34928
Davis
Alfred C.
64831
Royal Garrison Artillery
29th November 1918
23
Born circa 1895 in Worcester. Enlisted to the British Army in 1914. Assigned to The Royal Garrison Artillery No1 Siege Battery, which was first sent to France in September of 1914 seeing a host of initial skirmishes and offensives in support of British Operation including Mons, Marne, Aisne and the first battle at Ypres. The Unit was maintained in France/Belgium in support of a variety of British Units before returning to the UK for a refit in 1917. Alfred survived to see the end of the war though was hospitalised with sickness related to his service in Europe. Son of Charles and Sarah Jane Davis. Resident Fourfoot Row, St Pauls, died in the Military Hospital, Chelsea. He was buried in consecrated ground in Astwood Cemetery on 9th December 1918, aged 23 years. Awarded Victory Medal and British War Medal.

64
Evans
John W.
45172
Worcestershire Regiment
25th February 1919
43
Born circa 1876 in Worcester.Enlisted into the British Army first serving with the 6th Battalion Worcestershire Regiment. Transferred to 424th Agricultural Company Labour Corps. Formed in January 1917, the Labour Corps grew to some 389,900 men (more than 10% of the total size of the Army) by the Armistice. Of this total, around 175,000 were working in the United Kingdom and the rest in the theatres of war. The Corps was manned by officers and other ranks who had been medically rated below the "A1" condition needed for front line service. Many were returned wounded. This may explain John Evans' transfer from Worcestershire Regiment to Labour Corps.Was a resident Bromsgrove Street, Claines, died in Norton Barracks. Awarded Victory Medal and British War Medal.

17619
Firkins
William G.
5115805
Parachute Regiment
21st December 1943
29
"Served with A.A.C 8th Battalion.

He was killed during a parachute training accident nr RAF Stoney Cross. The Albermarle aircraft of 197 Sqn in which they were flying crashed into a hillside during bad weather.

The Station flying log book report for the incident stated: The first aircraft of 297 squadron was to drop at 03:00 hours and the other aircraft at 2 minutes intervals. The weather conditions were far from ideal - there were a number of shower clouds about - but despite this, the exercise was carried out and quite sucessfully considering the conditions. The moon was obscured by cloud and the navigators had difficulty pin-pointing their position. Unfortunately, one aircraft pilot Flight Sgt Jubb crashed when making the run to the rendezvous (Ludgershall) at a position where there was low cloud. Of the six R.A.F. personnel, all were killed outright except one who was critically injured, and eight of the ten paratroopers carried were killed, the remaining two being badly injured. Upon returning to base, the 4th aircraft crash landed on the runway, with the result that the runway had to be changed and the last aircraft did not land until nearly 05:00 hours. Consequently 110 troops of the 8th Parachute battalion were dropped in the drop zone as well as 10 troops of the independent parachute company. Night flying time - 25.40 Hours."""

Non-CGW Headstone
11957
Harris
Charles T.
203868
Worcestershire Regiment
27th January 1918
51
Born in Worcester circa 1867; enlisted at outbreak of WWI to The Rifle Brigade. Noted as previously holding Service Number 564. Served with 25th (Reserve) Battallion during the period 1914-1918; the Unit were detailed to remain in the UK at Falmouth for the entirety of the conflict. The next of kin for Charles Thomas Harris would have been sent this death plaque after the war to commemorate all of the war dead. Over 1 million were issued in total. Also received British War Medal and Victory Medal.

201
Harris
Percy G.S.
15875
Royal Flying Corps
11th August 1917
25
Born 1891 in Wrexham, Wales. Enlisted in to British Army prior to War. Served with The Royal Welsh Fusiliers, 17th Batallion attaining the rank of Serjeant prior to turning his hand to the rigours of RFC, serving with 21st Squadron where he was given the rank of Second Lieutenant. War records indicate that he was reported missing in Aug 1917 before being reported as killed in action on 7 September 1917; War Office Daily List 5358 refers, date of death given as 11 Aug 1917. Memorialised at Arras, Department du Pas-De-Calais, France which is a structure erected for personnel whose remains lie elsewhere. The next of kin for 2Lt Harris would have been sent this death plaque after the war to commemorate all of the war dead. Also received British War Medal and Victory Medal.

Non-CWG Headstone, buried with parents
Hart
Hubert H.
913256
Royal Artillery
27th September 1941
24
Born in Worcester circa 1916; enlisted at outbreak of WWII to Royal Artillery; eventually posted to 76th Anti-Tank Regiment. Records indicated that he was reported to War Office Casualty Section on 4 Oct 1941 and was Acting Bombadier at the time. The Unit embarked for North Africa on the date of Hubert's death and went on to participate in the battle at El-Alamein. Hubert reported as died in the Military Hospital, South Tidworth.

9548
Hayward
Walter J.
1211260
RAF
13th January 1943
21
Born in Worcester circa 1921; enlisted in 1940 to Royal Air Force Volunteer Reserve in Cardington; posted to RAF Silloth as a Wireless Operator (Sgt) and was tragically involved in an Aircraft Accident whilst participating in air training. His aircraft a Hudson I N7226 from 1 (Coastal) Operational Training Unit crashed on 13 Jan 1943 killing all crew members.

24023
Heath
Ruben J.
14446421
The Gordon Hignlanders
1st April 1948
21
SUBMITTED REQUEST TO FORCES WAR RECORDS FOR FURTHER DETAILS OF THIS SOLDIER.

Hill
Albert
85473
Royal Defence Corps
23rd February 1919
29
Born in Worcester circa 1890; enlisted in to Royal Defence Corps reported as died in service at Norton Barracks on 23 Feb 2019.

17618
Hill
Arthur
57273
Royal Welch Fusiliers
4th November 1918
20
Born in Kempsey, Worcestershire circa 1898; enlisted in 1914 in to Royal Welsh Fusiliers though records indicate that initial service with Worcestershire Regiment with service number 26738 prior to transfer. Saw service in Galipoli and Northern France/Belgium where he was likely injured; an order from 25 Sep 1917 indicates transfer to No.6 Convalescent Camp (Rouen) prior to transfer to No.53 Casualty Clearing Station before return to the UK where he ultimately succumbed to the effects of his injuries. War Office Daily List 5796 indicates a change of status from wounded to dead. War Office Daily List 5755 indicates entitlement for Arthur to wear "Wound Stripe". In addition records indicate awarding of British War Medal and Victory Medal.

17717
Hill
Thomas
25627
Worcestershire Regiment
16th November 1920
22
Born in Worcester circa 1898; enlisted in to Worcestershire Regiment and served with 14th Bn before transfer to Labour Corps with Service Number 62713. Awarded the Victory Medal and the British War Medal.

6018
Holden
Frank W.
1642870
Royal Artillery
27th March 1944
29
Born in Kings Norton, Birmingham circa 1914; enlisted in to Royal Artillery and assigned to 19 Coast Regiment, Royal Artillery which came under Gibraltar Command. Reporting from 6 Apr 1944 indicated that Frank had been listed as a casualty following an incident on 27 Mar 1944. Records indicate that Frank died at Ronkswood Hospital in Worcester. Awarded 1939-1945 medal.

War graves garden
34989
Hole
Harry L.
P/J15922
Royal Navy
2nd August 1941
46
Born in Worcester 18 Jul 1896; enlisted in to Royal Navy aged 18 in 1914. Served across many stations and ships prior to posting to HMS Victory (Training Establishment) & HMS Duke (Training Ship) at the outbreak of WWII where records indicate he was present during a Luftwaffe Bombing incident. It is not clear if this constituted his cause of death though he was recorded as being a casualty shortly after and died in Barrow Gurney Hospital prior to burial at Astwood. Recipient of all WWI and WWII medals for personnel in service during the period of these conflicts. His service record card is stored at Kew Archives.

31202
Hooper
Charles W.
9134
Hampshire Regiment
16th January 1920
54
Charles William Hooper was born in 1865 in Worcester. He enlisted in the Somerset Light Infantry as Private 1754 on 29th October 1886 at Worcester, serving 18 years 8 months with the regiment and 4 years 8 months in the Army Reserve. In 1914 he enlisted as Private 3789 in the 2nd/8th Battalion Worcestershire Regiment. He was discharged as medically unfit due to chronic bronchitis and rheumatism on 25th February 1916 when his height was given as 5 feet 5 inches, his age as 52 years 5 months and he was described as having a fresh complexion with blue eyes and light brown hair. Despite being discharged as permanently unfit, Charles re-enlisted in the Worcester Regiment on 11th July 1919 when he gave his date of birth as 13th September 1868. Five days later he transferred into the Hampshire Regiment as Private 09134. His next of kin was his wife Susan Jane, 1 House, 5 Fish Street, Worcester. On 12th December 1919 he appeared before a medical board and was once again discharged as permanently unfit for further military service due to myalgia.

17349
Howorth
Gerald S.
161967
RAF
17th May 1944
39
Born in Rochdale, Greater Manchester circa 1904. Enlisted to RAF Volunteer Reserve achieving Rank of Pilot Officer. Little is known of his service other than he was registered as dead whilst at RAF Hospital in Hereford in 1943; Air Ministry Casualty Communique from 17 Aug 1944 contains details of this report.

9152
Jones
Francis T.
3552
Worcestershire Regiment
23rd January 1916
30
Born in Upton-upon-Severn, Worcestershire circa 1898; enlisted in to Worcestershire Regiment and served with 1st/8th Battalion. Awarded the Victory Medal and the British War Medal.

Kelly
Edward J.
4917343
The Gordon Highlanders
10th March 1945
23
Born in Inverness, Scotland circa 1921; enlisted in to The Gordon Highlanders, serving with 1st Battalion. This Unit was forced to surrender to advancing German forces during the unsuccessful battle for France but quickly reformed to serve with distinction in both North Africa and Italy before ultimately moving to North Western Europe for the push to Germany. Edward is listed as being a casualty in the weeks before his reported death on Casualty List 1711. He died in Whitchurch Hospital, Glamorgan before moving to Worcester for burial close to his family in Astwood.

War Graves Garden
55381
Kelly
William H.
125261
Royal Army Medical Corps
7th June 1920
29
Born in Bromyard, Herefordshire circa 1890; enlisted in to Royal Army Medical Corps. Harold was called up for service, enlisting in the Royal Army Medical Corps at Blackpool on 29th August 1917. He was discharged as no longer physically fit for war service on 23rd November 1917 due to chronic blepharitis/myopia, a condition he had had since infancy which severely affected his eyesight. He had served just 87 days. At the time of his discharge Harold was 5 feet 6½ inches tall with a fresh complexion, blue eyes and black hair. His intended place of residence was 3 Spring Hill, Worcester with his wife, Eleanor Rose Kelly nee Hardwick, who he had married at St Peters Church, Worcester on 7th August 1916.

5639
Kent
Raymond
Home Guard
15th June 1941
30
Born in Norwich, Norfolk circa 1911; he moved to Worcester between the two major conflicts and enlisted in to Home Guard 1st Worcestershire (Worcester City) Battalion. The Home Guard was operational from 1940 to 1944, and was set up by the British Army during the Second World War. The nickname "Dad's Army" was due to the average age of the local volunteers who signed up for The Home Guard, who were ineligible for military service, usually because of their age. Originally called "Local Defence Volunteers" or LDV, the Home Guard's role was to defend British coastal areas, airfields, factories and explosives stores in the case of invasion by German forces and their allies. Reporting indicated that Corporal Kent was accidentally shot whilst participating in an exercise close to Perry Wood whilst instructing other recruits. He was laid to rest shortly after.

11666
Klee
Bernard P.
86340
RAF
4th May 1941
20
Bernard Peter Klee was born in India where his father was in the army, the son of Major Bernard and Jennie Klee of Southall Avenue, Worcester. He attended Worcester Royal Grammar School from 1935 to 1936 where he won the Allen Cup for shooting. After leaving school he joined H.W. Ward & Co to follow a career in engineering. He volunteered for the RAF and after receiving his wings he was selected to be a fighter pilot. He flew Spitfires from RAF Coltishall, Norfolk, patrolling the East coast area with other pilots of his squadron. He successfully shot down a number of enemy aircraft. On the night of 4th May 1941 having taken off, he was flying across his aerodrome when he was shot down by a Ju88 German 'Intruder' aircraft flown by Lieutenant Hans Hahn. His body was brought back to Worcester and he was buried in Astwood Cemetery after a funeral service in St George's R.C. Church in Worcester.

Non-CWG Headstone
8972
Lewis
Harry
3054
Royal Army Medic Corps
21st March 1919
36
Born in Worcester circa 1884; enlisted in to Royal Army Medical Corps in 1914. Records show that he was awarded "Wound Stripe" on 6 July 1916 though is believed to have remained in Belgium in support of British Operations. Image taken from Berro's Worcester Journal Supplement shows he was one of several family members serving in the conflict which tragically also accounted for his brother. Awarded the Victory Medal and the British War Medal.






15
Mackie
Alfred
9992
Worcestershire Regiment
12th May 1917
41
Born in Worcester circa 1876; enlisted in to The Worcestershire Regiment in 1892, serving with 6th Battalion. Awarded the Victory Medal and the British War Medal. Further, was recipient of Long Service and Good Conduct Medal and served 25 years in total. Alfred died in the Military Hospital at Devonport on 12 May 1917 prior to returning home for burial at Astwood.

28406
McKendrick
John G.
4717343
Royal Engineers
29th March 1945
34
Born 14 Dec 1910 in Kasauli, Himachal Pradesh, India to Lt Col Anderson Gray McKendrick who was formerly Indian Medical services. He came to call Inverness home and that was his listed address upon enlistment in 1933. Records show that he served in both India and UK (Aldershot) prior to outbreak of WW2. Promoted to Captain in 1941 and then field promoted to temporary Major in 1943, which he then substantiated in 1944. Likely participated in Battle of Normandy in 1944 prior to return to UK where he died at Ronkswood Hospital, Worcester in March 1945.

34866 War Graves Garden
Miller
Cyril H.
5120848
The Warwickshire Regiment
29th August 1945
34
Born in Worcester circa 1911; enlisted in to Royal Warwickshire Regiment. Mentioned in War Office Daily reports as being involved in an accident whilst at Infantry Training Centre ultimately succumbing to injuries sustained in this incident at Budbrooke Barracks, Warwick prior to returning home to Worcester for burial at Astwood.

War Graves Garden
Milner
William
372614
Royal Engineers
8th December 1918
45
Born in Derby circa 1873; enlisted in to Royal Engineers serving as a Pioneer. Pioneers were introduced pre-war to accommodate untrained Engineer personnel within a Corps of men to be trained to achieve required engineering trade skills to become a sapper. Awarded the Victory Medal and the British War Medal.

71
Mudge
James
31405
Royal Engineers
27th October 1920
58
Born in Newton Abbot, Devon, circa 1862; enlisted in to Royal Engineers serving as a Sapper with 402 Highland Field Coy from 1914. Was discharged on 28 Jul 1918 due to no longer being physically fit for war service. Awarded the Victory Medal and the British War Medal in addidtion to Silver War Badge for honourable discharge due to sickness.

Newman
Herbert E.
338072
Royal Army Service Corps
31st October 1918
32
Born Evesham circa 1886; enlisted in to Royal Army Service Corps before transfer to Labour Corps in latter part of military service with Service Number 483139. Likely worked on staff duties at Eastern Command Labour Centre which provided personnel for general labour duties overseas. Died in Hospital in Boston, Lincolnshire prior to return to Worcester for burial with family at Astwood. Son of John and Alice Newman, Nee Godwin of Pershore, Worcestershire, England. Husband of Winifred M Newman, Nee Hodges of 10 Northfield Street, Worcester.

7045
Obery
Edward A.
4244
Royal Field Artillery
4th December 1918
29
Born in Stoke on Trent, Staffordshire, circa 1888; he was baptised on 10th April 1889, one of four sons and the 10th child of Richard and Selina Obrey of Carden Street, Worcester. Richard was a cordwainer, he died in 1912 aged 67. Edward signed up for active service in 1914 with Royal Field Artillery as a Gunner with 3rd/2nd South Midland Brigade. In the latter part of the war, due to illness he transferred to Labour Corps. Edward died from double bronchial pneumonia on 3rd December 1918. A coroner's inquest was held on 6th December 1918 in Mapleborough Green, Redditch. Awarded the Victory Medal and the British War Medal.

72
Oggelsby
Fred H.
921498
The Wiltshire Regiment
18th February 1945
21
Born in Luton, Bedfordshire, circa 1923. Enlisted towards the latter years of the war, and following training was sent to Western Europe to assist in the allied campaign to liberate the lowlands and push to Berlin. Served with 5th Battalion Wiltshire Regiment. Records from April 1945 state that Lance Coporal Oggelsby had been wounded in action and had returned injured to the UK where he succumbed to his injuries in Ronkswood Hospital, Worcester on 18 February 1945. He was awarded 1939-1945 medal.

War Graves Garden
Orgee
William
54759
Royal Defence Corps
20th November 1920
60
Born in Worcester circa 1860; William enlisted for service in 1914 at the outbreak of WWI. Ultimatlely he was too old to be considered for front line service and so settled in Royal Defence Corps; providing security at key national infrastructure points and a guard force for PoW camps. Post-War, William briefly returned to his general Labourer work and was resident in John Street, St Pauls. He died in Hollymoor Hospital Northfield before burial at Astwood.

17756
Osborne
Eric W.
742135
RAF
17th August 1940
26
Born in Stow-on-the-Wold, Gloucestershire circa 1914; Enlisted in to Royal Air Force achieving flight status as a Sgt Pilot. On 17 August 1940 Eric was sadly involved in a training flight accident whilst training at 6 Service Flying Training School (RAF Little Rissington) when his Anson I L7907 aircraft crashed causing the death of Eric and his fellow crewman Sgt D Duncan.

War Graves Garden
34957
Owen
Edward J.
62572
Worcestershire Regiment
26th November 1919
20
"Born in Worcester circa 1899; enlisted in to The Worcestershire Regiment, serving with 6th Battalion. Although the gravestone gives his name as E.J. Owen, the burial records have him as Alvin George Owen, which may, or may not, be the same Elvin Edward Owen who was born in the first quarter of 1899 in Pershore, and died in the last quarter of 1919 in Worcester. To make matters even more complicated, his Discharge Card shows:

""Owen, Edward John. Worcestershire Regiment. 62572 Private. enlisted 17.2.17, discharged 4.4.19 under King's Regulation para 392 (xvi) and Army Order 29/19 for Sickness, with List L.A/1309 [for a Silver War Badge].""Awarded the Victory Medal and the British War Medal. "

921
Pearce
Charles F.
5777520
Royal Norfolk Regiment
26th September 1947
31
Born in Sheffield, Yorkshire on 25 December 1915. Enlisted in to British Army in 1940 with The Royal Norfolk Regiment. Charles was sent to Malaya with the Norfolk Regiment to try and counter Japanese Forces who had undertaken a huge land grab across South East Asia at this time and was reported as being taken as a Prisoner of War, held in Thailand. He survived to be able to return to the UK and his wife; Jean Sybil Pearce of Worcester. He was still in service when he died in hospital at Ronkswood before burial at Astwood.

War Graves Garden
Pingree
Percy V.
14499485
Worcestershire Regiment
17th February 1944
18
Born in Worcester circa 1926. Enlisted in to British Army in 1944 with The Worcestershire Regiment; serving with 1st Battalion. The Battalion were in a training and preparation cycle during Feb of 1944 for what would become the D-Day landings. Unfortunately Percy died during this training phase whilst stationed in Hythe, Kent before returning home to be buried at Astwood.

War Graves Garden
Price
Ernest
87772
Kings Liverpool Regiment
13th December 1918
40
Born in Worcester circa 1879. Enlisted in to British Army in 1914 with The King's Liverpool Regiment; serving with 1st Battalion. The Battalion were involved in action at Mons, Marne Ypres and Loos during the initial years of the war and remained campaigning in Northern France and Belgium throughout the rest of The Great War. Ernest was reported as injured and entitled to wear a Wound Stripe in War Office Daily List 5680 on 26 September 1918. It was not until Feb 1919 a report (5794) indicated that he had reportedly died from his injuries whilst at Rainhill Military Hospital (Liverpool). He was then returned home and buried at Astwood on 7 Jan 1919.

69
Prior
Eric A.
512490
RAF
10th May 1941
33
Born in West Ham, London circa 1908. Enlisted in to RAF between the two great conflicts in 1925 and joined as Aircrafthand as a Class F Reservist. A report (AIR 81.6364) from 1941 states that multiple casualties resulted from enemy bomb raids on London and that Flt Sgt Prior was sadly a victim of one of these raids succumbing to injuries whilst being cared for at Worcester Royal Infirmary on 10 May 1941 before burial at Astwood on 15 May 1941.

War Graves Garden
34834
Probert
Sidney
134870
Royal Engineers
17th March 1919
36
Born in Worcester circa 1883. Enlisted in to British Army in 1914 with The Royal Engineers as a Sapper, promoting to LCpl in 1916. He served with London Electrical Engineers, spending the majority of the WWI conflict on home duties in London implementing searchlight defences at major ports along the south coast of England. This task expanded to include establishment of Anti-Aircraft defence to protect against Zeppelin raids. Sidney died whilst still in service in London on 17 March 1919 before burial in Astwood on 25 Mar 1919.

2240A
Prodger
Dennis
LTJX387763
Royal Navy
19th September 1943
18
Born in Worcester circa 1925. Enlisted in to Royal Navy in 1943 establishing himself as Signalman RN. He was assigned to H.M Trawler Brabant which was detailed to act as minesweeping craft by the Navy during the war. Naval records indicate that Dennis died on active service as a result of an accident whilst onboard the Brabant. He was returned for burial at Astwood on 25 Sept 1943

War Graves Garden
Reynolds
Gladys M.
W17985
Auxiliary Territorial Service
18th December 1943
44
Born in Martley, Worcestershire circa 1899. Enlisted in to The Auxilliary Territorial Service during WW2. Daughter of Richard and Emily Mary Reynolds.

War Graves Garden
Robinson
Alfred
58733
Essex Regiment
20th July 1921
34
Born in Netherton, Worcestershire circa 1887. Enlisted in to The Essex Regiment in 1915, 3rd Battalion before being removed from service due to sickness, no longer physically fit for service in October 1919. Silver Badge issued (B324937) in addition to Victory Medal and British War Medal.

Number of his brothers also served. Berrows Journal shows family, 2 brothers also KIA. His brother Ernest buried plot 17495